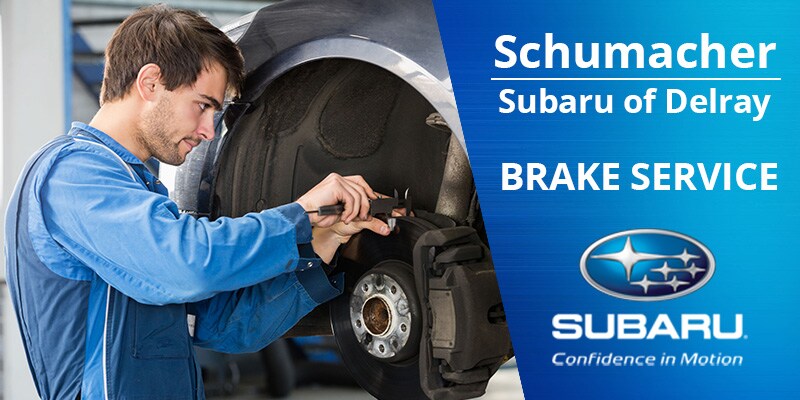 When it comes to you and your family's safety, don't compromise. Get your brakes checked by experts at Schumacher Subaru of Delray in Delray Beach, Florida.
From testing the brakes to replacing brake pads, our factory-trained technicians can handle all of your brake service needs. Let's take a closer look at when to bring your car to our service center and what happens when you get here.
Brake Service at Schumacher Subaru of Delray: What to Expect
When do car brakes need to be changed?
Most brake pads should be replaced after 50,000 miles. However, the exact mileage can vary based on the make and model of your car, as well as how you drive it.
If you encounter any of these issues, bring your car in for brake service immediately:
Your car makes strange noises.
Your steering wheel vibrates.
Your dashboard's brake light comes on
How are car brakes tested?
At Schumacher Subaru of Delray, our maintenance team checks your brakes by:
Checking your system to ensure both your brakes and brake pads are working properly
Looking for brake dust on your wheels
Determining your brake pads' thickness
Testing your steering wheel and brake pedal
How should car brakes feel?
When driving, be on the lookout for how your brakes shouldn't feel. Signs of a brake issue include:
Vibrations in the brakes or steering wheel when you use the brake pedal
A soft or spongy feeling in your brakes
Your car pulling to one side
What causes car brakes to fail?
The most common causes of brake failure include:
Oil leaks that lead to brake friction problems
Overheated brakes
Over-worn brake pads
Where to fix my car brakes?
Your Subaru is an essential part of your life, so put your car in hands you can trust. At Schumacher Subaru of Delray, our technicians are specifically trained to take care of Subarus, and they will treat your car as their own.
Schedule your next service appointment online or give us a call at (877) 862-8116. You can also stop by our dealership service center, located at 2102 South Federal Highway, Suite C in Delray Beach, Florida.