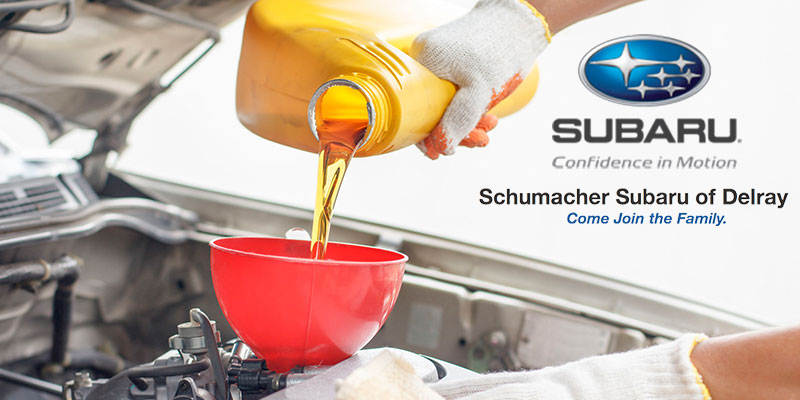 Subaru vehicles are built to last - after all, 98% of those sold in the last 10 years are still on the road in 2017. But an important part of getting the most out of your Subaru is proper maintenance and repairs.
Regular oil changes can prevent serious - and expensive - engine damage. Let's take a look at when you should bring your Subaru in for an oil change and why you should choose Schumacher Subaru of Delray in Florida.
Everything You Want to Know About Oil Changes at Schumacher Subaru of Delray
Why is getting my car's oil changed important?
Oil is responsible for lubricating all the moving parts of your engine. Subpar oil quality means poor lubrication, which can result in engine damage. Regular oil changes ensure there's a continuous flow of high quality oil to keep your Subaru running smooth.
How do I know when my car needs an oil change?
You should have your oil checked or changed every 3,000 to 10,000 miles, depending on which Subaru model you have. However, if you encounter any of these issues, you should consult a technician immediately:
Check engine light comes on the dashboard.
Oil appears dark in color or has particles floating in it.
The engine runs louder than usual.
Oil levels dip below what's recommended.
How do I check the oil in my car myself?
Check the level and quality of your oil by following these steps:
Turn off the engine and wait 10 minutes
Pop the hood and locate the dipstick
Pull the dipstick out of the reservoir and wipe it across a lint-free cloth
Place the dipstick back in the reservoir before removing it again
Check for an oily film at the end of the dipstick
Bring your car in for service if your oil is dark brown or black or if there are floating particles in it.
What happens during a professional oil change?
When performing an oil change, our technicians will:
Determine the level and condition of the oil
Drain the oil
Replace the oil filter
Add new oil
Where can I get an oil change near me?
At Schumacher Subaru of Delray, we treat our customers like family. So if you're looking to get an oil change from a team of skilled technicians that you can trust, you've come to the right place.
Browse our service specials and schedule your next service appointment online. If you have any questions or concerns, call us at (877) 862-8116 or stop by our dealership at 2102 South Federal Highway, Suite C, in Delray Beach, Florida.