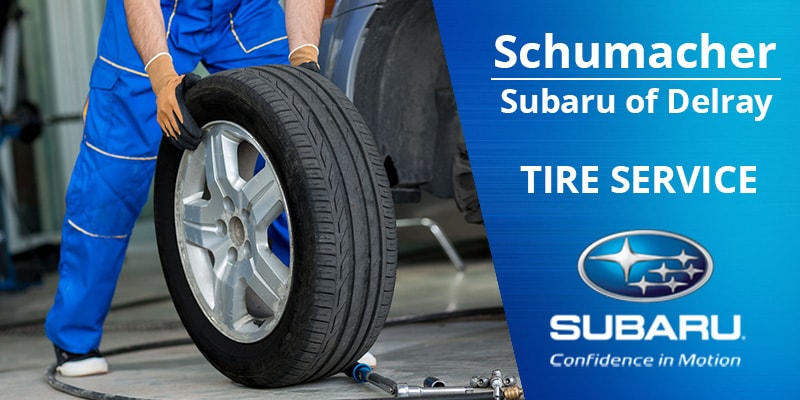 Subaru cars offer the capabilities and features you need to feel confident on every drive. However, wear and tear is inevitable, and it's important to bring your car in for regular service to extend the tires' lifespan.
At Schumacher Subaru of Delray, we know you need quality tires to make the most of Subaru's Symmetrical All-Wheel Drive system. From tire rotation to tire alignment, we offer all the services you need - with the expert technicians to get them done right.
Your Tire Questions Answered at Schumacher Subaru of Delray
When should tires be rotated?
Make sure to have your tires rotated every 5,000 to 8,000 miles. Since the exact mileage varies from car to car, get your tires checked when you bring your car in for an oil change.
When do tires need to be replaced?
With regular tire rotations, your tires should last a while. However, you should get your tires changed every five years - and perhaps sooner if you drive in snow or rain frequently.
How do tires influence gas mileage?
Maintaining the manufacturer's recommended level of tire pressure ensures you'll get better gas mileage. If the pressure is too low or high, it can harm your gas mileage.
Why is my tire maintenance warning light on?
Here are the top three reasons the tire maintenance warning light comes on:
Abrupt changes in weather
You've gone over the mileage setting between tire rotations
Your tires are over or underinflated
What wears out car tires?
Tires wear down over time. However, if they are wearing out quickly, check to make sure the tires aren't underinflated, overinflated, or misaligned.
Be prepared for anything in your car by scheduling regular tire service. At the Schumacher Subaru of Delray service center, you'll benefit from a team of factory-trained technicians who know the ins and outs of your Subaru.
You can schedule your next service appointment by: